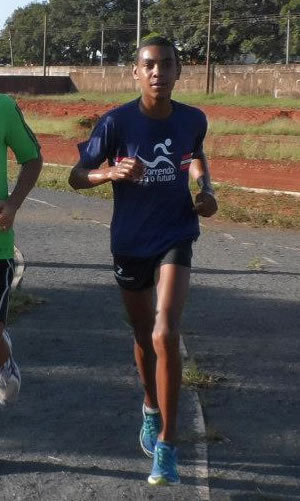 1996
Superação (overcoming)
– running with my eyes focused on the goal
I was born in a favela in Brasilia, the capital city of Brazil. My parents parted ways when I was very young, and I was brought up by my father. My first encounter with long-distance running was at age 10. The principal of our elementary school encouraged me to participate in a local endurance running competition. I was a bit of a rebel then, and the only reason I followed his suggestion was that I wanted the first prize: a bicycle.
By age 14, I had won myself three bicycles and was seen as having real talent, so I began athletic training in earnest. At that time, however, my friends in the favela would ask me to join them, and I started going to parties, drinking, and getting involved in drugs.
I stopped going to school, and started living a wild kind of lifestyle, meaning I often didn't even come home. Fortunately I received an invitation from a Sao Paulo track and field club, which I took up as an opportunity to farewell the favela in which I had grown up with my friends.
However, I didn't give track and field my all, and gave in to the temptation to meet up with my friends in the favela whenever I went back home. Without having identified to myself what I really wanted to do, I fell back into drink and drugs, and would then make a half-hearted effort to return to training. I was half-baked in my approach, so repeated this pattern.
It wasn't until three years ago, when I was 17, that I finally came to my senses. My elder brother got shot in a fight between rival gangs. I realised that the way I was going may have led me to the same fate as well. I was heading for one of only two places: a coffin or jail.
I am very regretful that it wasn't until I lost my beloved brother that I finally came to my senses, but the incident opened my eyes and I decided to change. I swore to myself to move ever forward so as to never have that same kind of regret again.