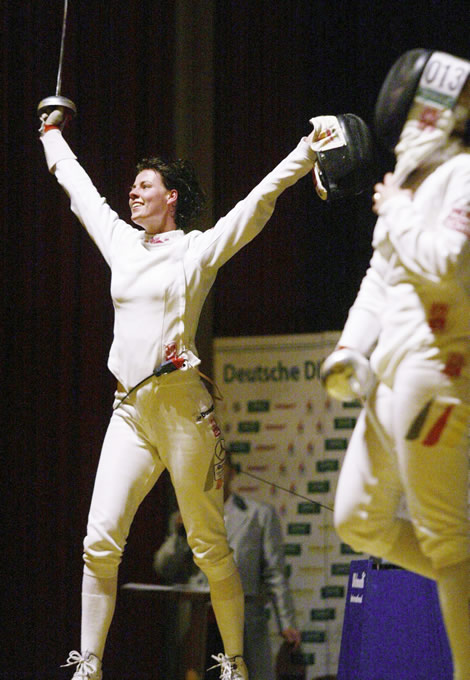 © Alexander Hassenstein / Bongarts

1973
The Process More than the Result
I began fencing at age seven. By that time, I had got used to watching my older brother and sister fence, but had been too young to join in. Even today, I clearly recall the joy I felt when at long last my father gave me the go ahead to begin.
At age 16, I left the small town in the Netherlands that I'd been brought up in, and attended a boarding high school in Bonn, Germany. I made up my mind to launch myself into fencing while attending school there. Leaving my family and friends and going to school far away and alone, I felt isolated, and there were times at first when I felt lost in the face of a new language and culture, but all the while I remained fiercely dedicated to fencing, with like-minded team mates whom I could achieve an ever higher level of skill with. Looking back now, that decision I made was the biggest turning point in my life. What I learnt at high school forms the core element of the person I am and the life I live today. What proved particularly useful for me were the time management skills I learnt through group life, and how to cope with emotions when winning and losing. Those skills not only proved useful in the sporting environment, but also became two of the most important elements of my life.
By the time I retired from active competition in 2008, I had achieved a record of which I am very proud. My major competitive achievements were being twice world junior champion, twice world champion, and competing in the Olympics three times. Yet, what most sustains me now and has the greatest weight is what I experienced in the process of reaching those successes.
Sport taught me to value the idea of "the process more than the results."
People are naturally inclined to advance toward their goals and results efficiently, in a straight line, but it's in the twists and turns of the process that the things of importance make themselves apparent, like the things you learn from colleagues who are working towards the same goal, and repeated effort and trial and error.