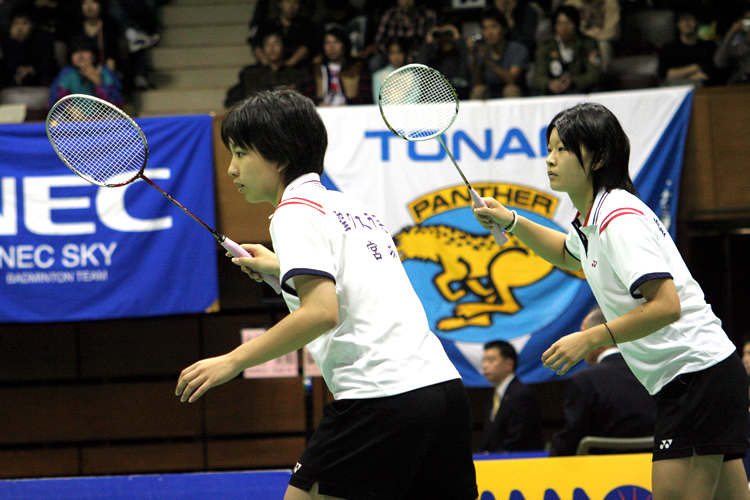 © Nihon Unisys.,Ltd



1990
An ideal pair, filled with mutual trust and respect
T: I first met Ms. Matsutomo when we were in elementary school. We were both playing at the top of our respective grades. Since I was one grade higher, we never had a chance to play against each other in a tournament or other competitions. To tell you the truth, I didn't really want to play against her because I didn't want to lose to a younger player.
M: It was the other way around for me. I admired Ms. Takahashi as an exceptionally strong player, who was a grade ahead of me, and I wanted a chance to challenge her. The thing is, when that dream finally came true and I finally played against her, I was no match for her at all.
T: Later, we went on to the same high school, became teammates, and started playing doubles as a pair. When I was a senior in high school, we rose as high as the semi-finals in the Women's Doubles at the ALL JAPAN Badminton Championships. We gained a lot of confidence by that achievement—of being high school students who were among the top four doubles pairs in our event in the championships. Thanks to that experience, we started placing the Olympic Games in our view. It changed our mindset to aspire to play badminton at an even higher level, so that's a competition that we'll never forget.
M: For me, those championships were also the biggest turning point of my competitive career as a badminton player. I hadn't thought that we'd be able to get that far, so it was a highly memorable tournament. It was one in which we were able to discover new things about ourselves and find our future potential.
T: Since then, we've been working hard as a doubles pair. Before that, I was a good singles player. It was only after I started playing as a pair with Ms. Matsutomo that I discovered the joy of playing doubles. I feel grateful for her presence because there is much to learn from how she constantly spares no effort. I have also been able to overcome hardships and difficulties because she was there with me.
M: I think that Ms. Takahashi's mental toughness and innate talent are really amazing. I am always inspired by her mental toughness and attitude. I am very lucky to have someone like her, whom I respect as a doubles partner, because I believe that I can achieve something if we do it together and support each other—even those things that I would otherwise not be able to achieve on my own.
T: Badminton taught me to feel concern for my partner even while maintaining a strong sense of self. Meeting someone whom I can trust and respect as a doubles partner, and raising our respective abilities into those of athletes who can compete on the world stage… it's been a pearl beyond price.