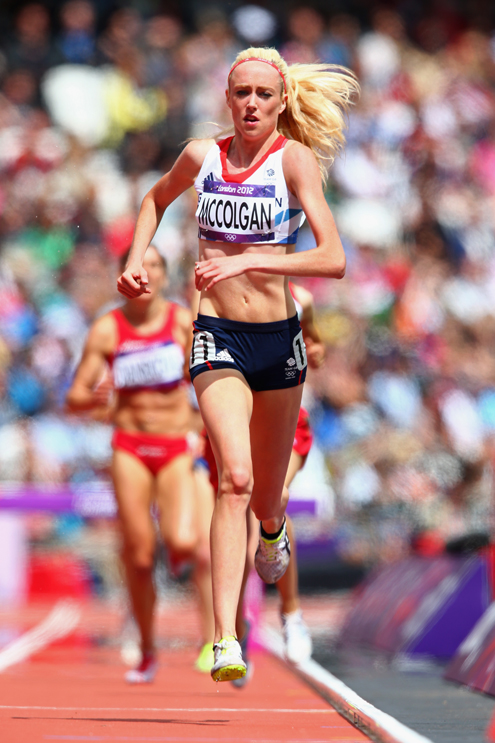 © Michael Steele / gettyimages
Overcoming Challenges
With my experience of the training camp in Kenya in the January after the 2012 London Summer Olympic Games, I developed greatly, both physically and mentally. Following that I graduated university, quit a part-time job, and began life as a full-time athlete.
I can't imagine being what I am now, believing in myself and keeping on running, if it weren't for the huge influence my mother had on me as an athlete who shone and made stunning achievements.
I was born two years after my mother won a silver medal for the women's 10,000m at the 1988 Seoul Olympic Games. Then the year after I was born she won a dazzling victory: a gold medal in the women's 10,000m at the 1991 World Championships in Athletics in Tokyo. She kept training right up until I was born, and took up running again as soon as she could following my birth.
When I look at her training diary from that time, I get a glimpse of the untiring effort she put in.
My mother's words to me upon graduating from university were strict but warm: "This is where the hard work now begins."
Then hard times quickly came my way in the form of an injury.
It required a major operation, so this year (October 2015: the time of the interview) I haven't been able to run a single stride. For an athlete, not running at all for a period of no less than 10 months is almost impossible to put up with, but I followed the course of treatment, and at last I am seeing light at the end of the long, dark, winding tunnel.
Perhaps at the end of that tunnel a steep, grueling slope lies in wait. But if that's the path that leads to the Rio Olympics, so be it. I'm full of passion for running, a passion I felt all the more keenly during my time of my rehabilitation, and I'm ready for anything.
My mother, who has lived a clean, wholesome life as an athlete, who has overcome numerous challenges, and who made it all the way to the top says to me "If I can do it, so can you." This great athlete who achieved success is my mother and also my coach. I'm truly blessed in having a role model like my mother, and couldn't ask for any better. Thanks to her, I have been able to take on an attitude, in a very natural way, whereby even troubles can be seen in a positive light.
I respect my mother and believe what she tells me, I believe in myself, and I'm going to keep fighting my way to the Rio Olympic Games.
I also want to do it for the sake of showing just what a clean athlete is capable of.