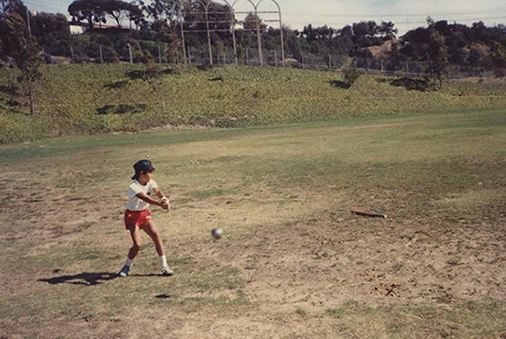 1975
Not Simply Pursuing Athletic Achievement but Growing in Awareness as an Athlete
The 1984 Los Angeles Olympic Games was the first Olympic Games I experienced in person. I remember the crowd being all revved up and excited as if it itself were a living thing, and the cheering filling the stadium like a thunder. I told myself I wanted to compete one day on a stage like this, but I was still only 9 years old and it was only a vague aspiration at that time.
The turning point in my life came when I entered Narita High School. Athletically, not only was I respected there for my unique qualities, but I also received a great deal of stimulation from a variety of people like the world champion in hammer throw at that time, and trained together.
In addition, under the supervision of the track and field coach, I lived in a dorm and learned that it's not enough only to achieve good performance results. Athletes are members of society as well and I learned there are other important things to be observed in order to live as part of society.
What I learned at Narita High School is still very much with me today, and I am grateful for the invaluable assistance I received from my Olympian father and my coach.